"Don't copy the behavior and customs of this world, but let God transform you into a new person by changing the way you think. Then you will know what God wants you to do, and you will know how good and pleasing and perfect his will really is."
Romans 12:2
---
Sunday, April 7, 2019
It is All About the AND
We are happy to welcome Rusty Gordon back as our teacher this Sunday. His lessons are interestingly titled and thought provokingly taught. The title of his lesson is: "It is all about the AND." He will be using several scripture references – John 4:23-24, John 14:6, Romans 12:1-2, and Micah 6:6-8.
CUC Refreshments
We are thankful for our CUC refreshments each week. This Sunday they will be provided by Sister & Gannett Backus and Lesleigh & Jeff Coelho.
CUC Attendance
Sunday, March 31
89 members + 3 guests = 92 total
CUC Collection
Sunday March 31
$96
---
This is a wonderful opportunity to get to know your CUC classmates at a more intimate gathering. The host provides the main course and wine if desired. Each guest will bring a portion of the meal.
The committee has matched up guests and hosts, and guests will be contacted shortly if not already. Nearly 100 people have signed up to participate.
Dinners will be held throughout the spring (April, May, June) as each group selects a date convenient to all. Questions? Comments? Contact Kris Taylor – or Mary Serafina).
---
CUC Chick-fil-A Tour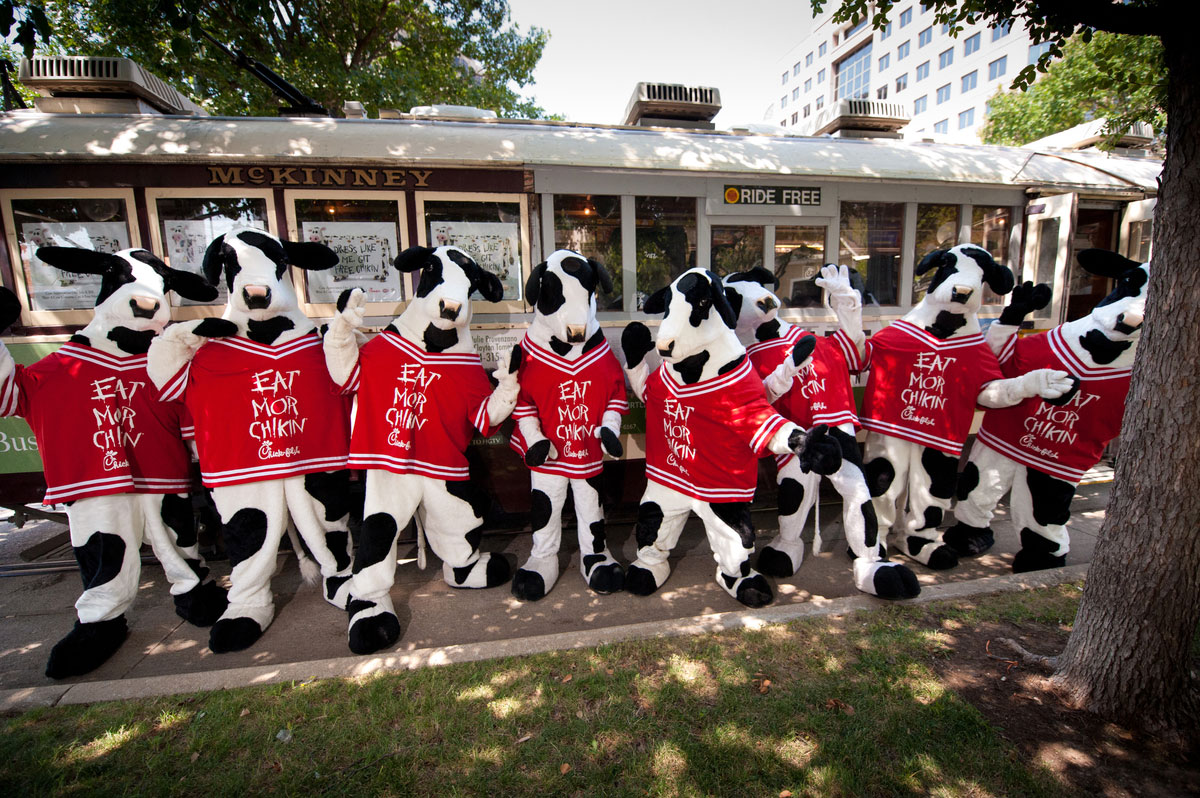 The Chick-fil-A tour is this coming Tuesday, April 16th. We will meet at the church at noon and board the buses and leave at 12:15. Google says it will take us 59 minutes, which will leave time to get there, park, and be ready for the tour which is SOLD OUT. Tour is 1:30 – 3:30.
remember to eat lunch prior to coming to the church
wear comfortable walking shoes
business casual attire
PLEASE, call or text Patricia Lanham if you are not going to be joining us for the tour. See you at noon
---
Brunch will be served following the worship services on Sunday, April 7, at 12:15 p.m. in the Fellowship Hall, Chapel building. Enjoy a full, hot brunch menu at $6 for adults and $4 for children 12 & under:
eggs, bacon, sausage, hash browns, biscuits, and fresh fruit; orange juice, coffee, and iced tea.
Everyone is invited!
---
Hospitality Opportunity
You have the opportunity to play a role in hospitality management at RUMC……..
GOLF CART DRIVERS are needed to drive 30 minute shifts on Sunday morning.
The times are 9:00 to 9:30, 10:00 to 10:30 and 12:00 to 12:15……..
We are looking for drivers with "Big Smiles" to drive four (4) shifts over a one month period. Routes will be defined and the opportunity to serve others will be unlimited. Jim Boswell will be at CUC this Sunday to take your names and answer your questions. Thanks!
---
Homestretch Road Race
Thank you to the CUC members who have donated generously to support the Homestretch Church Challenge and have volunteered to help at the "Run the River" this Saturday, April 6.
Those who have pledged your financial support, please turn in your checks with the amount you have pledged on the clipboard which will be passed this Sunday. Make checks payable to RUMC with Homestretch Road Race on the memo line.
---
Easter Egg Hunt Basket
Responding to a request from Children's ministry, CUC will be contributing a basket which was put together by Jeannie Ehlers and Sara Beecham for the Easter Egg Hunt.
---
Plan to join us on the remaining Tuesdays during Lent, through April 16, for lunch in the Fellowship Hall at noon, followed by a message from Dr. Jeff Ross. No reservations are required: cost for lunch is $6.
---
Wednesday Night Out
Join us weekly from 4:45-6:30 p.m. for dinner in the Fellowship Hall. This week's menu is:
Beef Bourguignon, Buttermilk Smashed Potatoes, Roasted Garlic Butter Broccoli
Fresh Yeast Rolls, Soup du Jour
Pasta Caesar Salad,and Smores.
This week the Outreach Choir, part of the Sanctuary Choir, will entertain us with a few of the songs that they perform during the year with their visits to assisted living residences.
---
The Annual Garage Sale and Bake Sale benefiting Job Networking will be held May 2-4. Donated items can be dropped off at the trailer near the Fellowship Hall (building "E") before and after worship services on Sundays, April 7, 14, and 28. Pick-up is offered for large items:
April 28 – May 1
Contact: Ann Gordon. Volunteers are needed to help with the sale and to donate "treasures." For information or to volunteer: rumc.com/garagesale
---
Mary Serafina is coordinating the bake sale (which was highly profitable last year) at the Garage Sale.
Please sign up to contribute your own favorite baked goods.
---
Keep on bringing in those accumulated box tops and flip tops for Red Bird Missions and Ronald McDonald Houses!
Birthdays
Nance Spence – April 9
Jeff Coelho – April 11
Martha Knight – April 12
Anniversaries
---
Barbara Davis – recuperating at home following a bad fall following eye surgery to correct effects of Shingles
Rose Lappe for surgery to go well this Friday
Janice Scalzo for successful knee surgery
Continuing prayers:
Shirley May who is still recovering from Shingles
Pat (Mrs.) Cooney as she has chemo for multiple myeloma. Her condition has improved but she will need to continue chemo. Keep her and her husband Pat in your prayers.
Please pray for needs expressed and unexpressed for friends and relatives of CUC class members who are facing illnesses, loss of loved ones, and important decisions to be made.
---
April 6 – Run the River Homestretch Road Race
April 15 – Chick-Fil-A tour
May 2-4 – RUMC's Annual Garage Sale Extravaganza
June 26 – CUC Picnic Potluck
Oct. 8-10 – CUC 2019 Retreat Amicalola Falls Lodge
Oct. 14 – RUMC Foundation Golf Tournament
Oct. 21-23, 2020 – CUC annual retreat at Winshape at Berry College
---
---